OUR SERVICE
Many people question if a locksmith is someone who is able to make keys for your vehicle.
Yes, they are. Not only do they specialize in locks of many kinds, they do make keys for vehicles, make ignition repairs, and program and reprogram keys and key fobs. The services range from regular metal keys to high security and transponder keys. You never know when a situation may occur when your key is stuck inside of your ignition, or even break off inside of it.
you can rely on our service team in any of your locksmith needs
Call us at 407-353-9500 and we'll refer a professional locksmith to you and they will be more than happy to extract the key for you and make a new one there on the spot. There are a few different ways a technician is able to make a key, and it does depend upon the year, make and the model and security of the key. In some cases, you may not even need a new key at all, your with your key, it is possibly that your entire ignition may need to be switched out, and we can send a locksmith who can do it. 
WE CAN HELP WITH UNLOCKING YOUR TRUNK!
We come out to you wherever you may be to get the job done. In some instances, the dealer even use our locksmith service to do the work when they are not able to do it themselves. So, cut out the middle man and contact us first. In addition, the services are not limited to ignition repairs, and keys for the ignition. If you have locked your keys in your trunk, and your trunk release is not currently working, there is a possibility that a key needs to be made in order to unlock your trunk. There is a variety of other services a locksmith can perform on your vehicle such as door keys, gas cap, and glove department locks.
Most likely you would realized you locked your keys inside house before you could catch the door before it shut, or your key simply fell off of your key ring. Whatever it was that happened, call us and we will refer you to a professional locksmith to
get you back into your home.
We understand what all a house lockout entails. Perhaps a small child, or an elderly loved one is locked inside and requires immediate attention. Or possibly you left the stove on, it is storming, very cold, very hot out, or just simply need to gain access back into your home. We classify lockout services as an emergency and would like to correct the situation that you are in as quickly as possible. 
There are a few different ways to gain access to your home, business, to that is inside either one.
OUR SERVICE INCLUDE HIGH SECURITY LOCKS 
Locks have different levels of security and our professional locksmith service technician is ready to assist you with which ever type that you have. Low security, medium security, and high security knobs or deadbolts. 
There are different tools and methods to be used in any type of lockout.
our expert locksmith service can re-key and re-install your lock
Not only can the technicians help you with the lock out, they are able to install, change and/or re-key the locks, too. locks and they will use the ones you have already purchased. If you want to add a lock, they can also perform fresh installations. These also include deadbolts. Not only do they work with regular locks, but also work with hardware such as panic bars, electronic, and magnetic locks for your business. If you have any questions regarding lockouts, installations, changing or re-keying, then please, give us a call, 407-353-9500. 
And we will be ready to help you feel more secure in your home or business.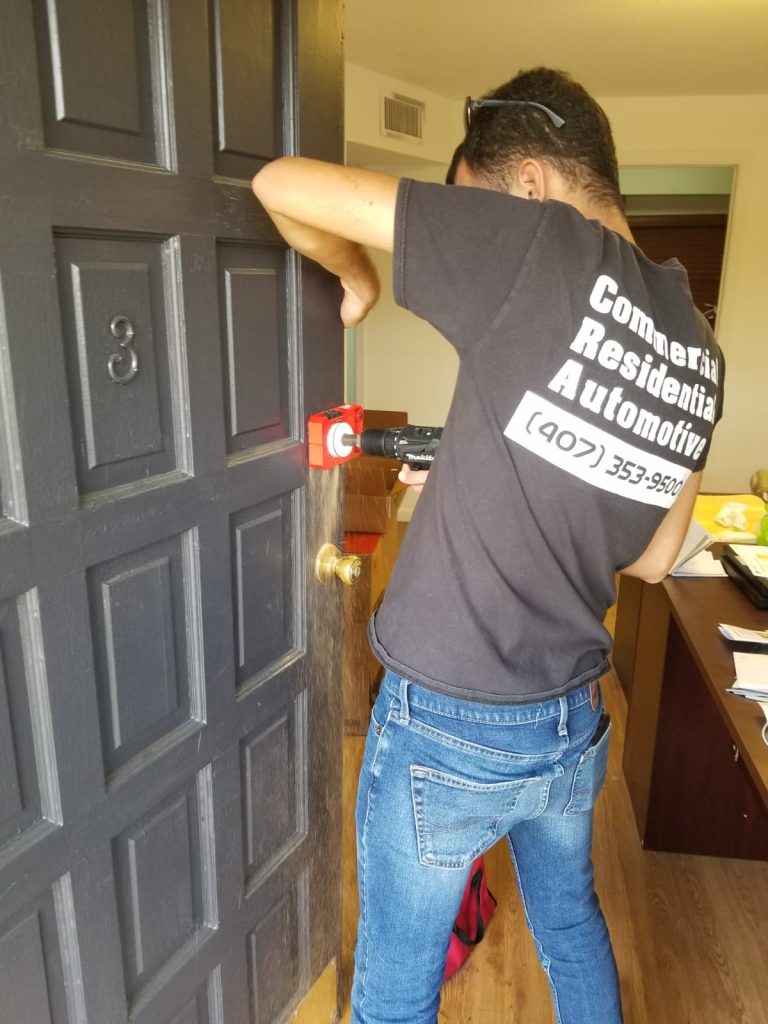 Our service include 24-hours emergency locksmith
Being locked out of your vehicle can be one of the most frustrating things that can happen. Whether the vehicle belongs to you, your company, or even a rental. Chances are, you are in a hurry, and that is why your keys are in your car in the first place. We all like to warm up our cars in the winter, or perhaps cool them down in the summer. You walk back over to your car when you are ready to leave, and you are locked out.
The first person you should call in a lockout emergency, or just locked out in general is our  locksmith service.
We understand that you are in a hurry for work, your child is about to be late for school (or they may be locked in side of the vehicle), or you are about to miss your flight. A locksmith is able to quickly get you into your vehicle to call a police officer or security. Especially if they are locked out at a gas station or on college campus, there is usually one around, but they do not have the experience and thorough training that a locksmith has for this particular situation. 
They may be able to unlock your car, but what if there is damages or doesn't have the correct equipment?
OUR PROFESSIONAL SERVICE LOCKSMITHS WILL BE ABLE TO BACK UP THEIR WORK.
are equipped to handle your lockout needs. Whether your locks are high security, low security, electronic or manual. There are several different types of tools that can be used in order to unlock your specific lock. Please, do not hesitate
to give us a call. 
We are here to help you and waiting on your phone call.
Whether you are in need of residential or commercial security, we provide a variety of high security locks.
From basic cylinder door locks and deadbolts to advanced electrical locks. We will do above and beyond to ensure that you will get the lock installation, you need to feel safe and secure in your home or business. We carry high quality brands at the best prices. Some of the locks we offer include: Mul-T-Lock, Schlage, Medeco, Baldwin, Yale, Corbin Russwin, Kwikset, and much more. With any of these brands and with our professional installation, you will feel confident that your home or business will be properly secured.
We will remove old locks from your property and replace with industry leading locks to keep you safe and secure.
Did you know you can change the key that lock / unlock your home and business locks, without the cost of buying new locks? 
Lock rekey is fast, easy and can be done by our professional master team at any time. 
Explanation: The locksmith will change the pins, inside your lock, to work with an entirely new key. Or, even make the key from another door to work. Your choice. Most of the locks have 5 pins 6 pins for high security locks), that vary in size. The correct size pins, in the correct order, correspond with the cuts on your keys When this combination is made right, the key will turn in the lock and allow you to enter. It's way cheaper than buying new locks and should be considered as a priority, when your move into a new home, new business or if you like to improve your security.
No need to carry multiple keys.
Another great option is to make one key that serves all of your 'alike' locks.